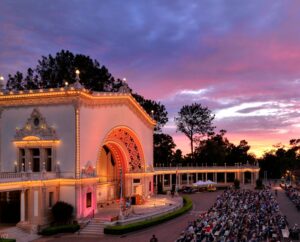 Spreckels Organ Society, a non-profit organization curating concerts and performances in the heart of Balboa Park, celebrates St. Valentine this love-filled holiday. The Spreckels Organ Pavilion is the largest open air musical instrument in the world!
Sunday, Feb. 13 at 2:00 p.m. at the Spreckels Organ Pavilion
Free admission; open to the public
This concert will pay tribute to St. Valentine's: Dance Music from The Roaring 20s. Highlighted composers will include a mix of George Gershwin, Benny Goodman, Glenn Miller, among others.
In addition to this special performance, the Spreckels Organ Pavilion will also host weekly concerts each Sunday at 2 p.m. All concerts on the Spreckels Organ are free to the public in accordance with the 1915 Deed of Gift whereby the brothers John and Adolph Spreckels gave the organ and pavilion to the City of San Diego. For more information, visit www.balboaparkconcerts.org.
Set in the beautiful backdrop of Balboa Park's open-air venue, performances bring a one-of-a-kind experience for guests. The elevated music venue brings world-class musical artists for San Diegans and visitors to enjoy, for free. For more information about the Spreckels Organ Society, visit www.spreckelsorgan.org.