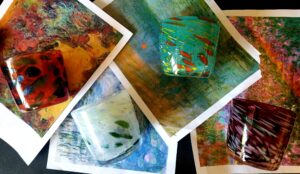 San Diego art glass and mixed media artist James Stone of Stone & Glass launches new edition to The Collector's Club, a subscription service originally launched during the pandemic (summer 2020) to help glass art lovers collect one-of-a-kind pieces. The new collection – Impressions of Monet – gives the choice of a rocks, stemless wine, or tumbler glass, inspired by works by Claude Monet.
Just in time for Mother's Day, with the first glass shipping late April, the new four-piece collection includes pieces inspired by and named, The Artists House, Monet's Jardin, Sunrise, and Water Lilies.
"Some of the hallmarks of Monet's work lend themselves beautifully to glass," said Carol Rogers, co-owner of Stone & Glass. "The pieces in the new collection will focus on the overall visual effect of Monet's work – 'broken' brush strokes of mixed and unmixed color and the inclusion of movement to achieve an effect of intense color vibration."
The new program is a 4-month subscription for $60/month, if picked up, $65/month, if shipped, and $75, if bought individually without the subscription. For more information or to subscribe, visit https://shop.stoneandglass.com/product/impressions-of-monet-collectors-club/.
Stone is a full-time artist working out of his environmentally conscious studio in Escondido, Calif. He is best known for his use of color. Each piece has a long creation cycle and represents a great deal of time, talent, and experience from start to finish. Not only does Stone design commissioned work for individual clients, but also restaurants, museums and corporate businesses, from sets of drinking glasses to massive vases, bowls, lighting fixtures and sculptures, in a variety of themes and styles.
Stone and Glass is located at 629 W. Grand Ave., Escondido (92025). To learn more about Stone and his work, visit www.stoneandglass.com.