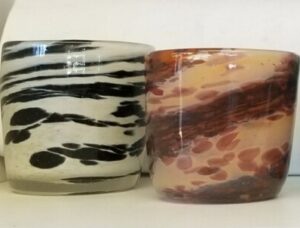 San Diego art glass and mixed media artist James Stone of Stone & Glass launches new edition to The Collector's Club, a subscription service originally launched during the pandemic (summer 2020) to help glass art lovers collect one-of-a-kind pieces. The new collection – Children's Nature Retreat Exotics – gives the choice of a rocks, stemless wine, or tumbler/beer glass, inspired by exotic animals found at the Children's Nature Retreat, a 20-acre animal sanctuary in Alpine with more than 200 domesticated livestock and exotic animals.
The Collector's Club "Children's Nature Retreat Exotics" is a limited-edition, 4-month subscription series – inspired by Bamboo the zebra, Maruya the peacock, Belle the green wing macaw and Lucy the corn snake – all animals that have been rescued and can be found at the Retreat. The color of the glass will change each month, based on Stone & Glass' interpretation of the skins, coats and feathers of the exotic creatures of the Retreat. The series can be set up to start mid-November or mid-December and make great gifts.
This special edition of the Collector's Club is $72/month (or $72 per glass) with local pick-up in Escondido, or $78/month with shipping; 20 percent of each glass will go to the Retreat. These one-of-a-kind hand-blown drinking glasses can be picked up or shipped and give back with each glass.
"Stone & Glass is continuously inspired by color; the vibrant patterns of the beautiful animals at the Retreat were the perfect muse for this new collection," said Carol Rogers, co-owner of Stone & Glass. "We're thrilled to team up with the Children's Nature Retreat to help the animals, and just in time for the holiday shopping season."
Stone is a full-time artist working out of his environmentally conscious studio in Escondido, Calif. He is best known for his use of color. Each piece has a long creation cycle and represents a great deal of time, talent, and experience from start to finish. Not only does Stone design commissioned work for individual clients, but also restaurants, museums, and corporate businesses, from sets of drinking glasses to large-scale vases, bowls, lighting fixtures and sculptures, in a variety of themes and styles. Stone and Glass is located at 629 W. Grand Ave., Escondido (92025). The gallery is open Thursday through Saturday from 11:00 a.m. to 6:00 p.m. and Sunday through Wednesday by appointment. To learn more about Stone and his work, visit www.stoneandglass.com.
The Children's Nature Retreat Foundation is a 501 c3 non-profit organization dedicated to enriching the lives of children and their families. The Retreat, located on 20-acres in Alpine, Calif., is an animal sanctuary, where over 200 domesticated livestock and exotic animals – 25 different species and 70 distinct breeds – call home. Many of the animals have been acquired from owners who could no longer keep or care for them, while some have been rescued from harsh living conditions; these animals will now live out the rest of their lives in the serenity of the Retreat. For more information, visit https://childrensnatureretreat.org/ or call (619) 320-4942.