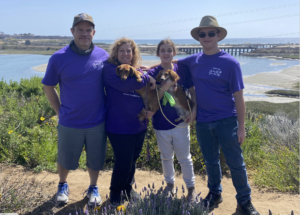 Hands of Peace, an international non-profit organization that empowers American, Israeli, and Palestinian youth to become agents of change, invites the San Diego community to sign up for its "Mother's Day 5K Walk for Peace" on Sunday, May 8, starting at 8:00 am at Cardiff Elementary School, 1888 Montgomery Ave., Cardiff, CA 92007. Participants can register online at handsofpeacesandiegobenefit.org.
Kicking off Hands of Peace "20 Years Planting Peace" Benefit Week, the 5K Mother's Day Walk for Peace honors the vision of Juliet Ward Howe, who called for a Mother's Day dedicated to peace in honor of mothers who lost their sons and husbands during the U.S. Civil War. Howe urged mothers around the world to lead their countries to work for peace "in the name of womanhood and of humanity." Funds raised will go to Hands of Peace programs in San Diego that bring together American, Israeli and Palestinian youth for dialogue and leadership.
"We are honoring 20 years of lives being changed by Hands of Peace. Thousands of alumni, volunteers, hosts, and staff have experienced the transformative power of courageously engaging with people who are different and building a shared vision for justice and peace," said Scott Rasmussen, Hands of Peace Executive Director.
Then, enjoy an inspirational evening at the Hilton San Diego/Del Mar for
San Diego Benefit 2022: "20 Years Planting Peace," Sunday, May 15, 2022, starting at 5:30 pm. Hear directly from Hands of Peace alumni leading with courage, empathy and intention for the good of their communities. Founder Gretchen Grad and hundreds of San Diego volunteers who have opened their hearts and homes to these resilient youth will also be honored.
Early Bird tables and tickets are available now through April 22, 2022. Various sponsorships are also available, including sponsorships for the commemorative "20 Faces of Change" magazine highlighting the stories of 20 Hands of Peace alumni.
For more information go to handsofpeacesandiegobenefit.org or contact Diana Kutlow at (760) 492-1623, [email protected]
Hands of Peace
Hands of Peace empowers American, Israeli and Palestinian youth to become agents of change. The non-profit 501(c)(3) interfaith organization was founded in the shadow of 9/11 by Gretchen Grad in Chicago, Illinois, in 2002. The first Summer Program was held in Chicago in 2003. Since then, Hands of Peace has expanded in size, strength, and scope with Summer Programs in Chicago and San Diego, alumni programs in Israel, Palestine, and the US, and multi-narrative tours to the Middle East for American youth and adults. Today, there are more than 700 Hands of Peace alumni leading change around the world. For more information, go to www.handsofpeace.org.