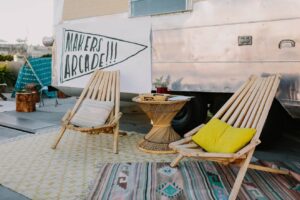 Makers Arcade Summer Fair brings the summer vibes to life on the Broadway Pier, Saturday, June 25 and Sunday, June 26 from 11:00 a.m. to 6:00 p.m. The event will host 100-plus local makers, plus a seasonal, summer shopping experience with craft cocktails, gourmet food trucks, live music, photo displays, styled lounges and more!
San Diego Made – cofounded by Kristin Dinnis, Sarah Anderson, Brittany Kaszas, and Brook Dailey –acquired the makers' bazaar last year, and is now the proud owner of Makers Arcade.
"The pier will be decked out with summertime fun, creating a very special opportunity to shop while enjoying waterfront views," said Dinnis.
Among the festivities includes live music both days. The lineup includes Morning Glory Family Band, Barnacle Brothers, Devvlov, Christian Jules Taylor, and Puerto.
In addition to the local artisans, a free workshop, with ticket purchase, will be hosted by The Artie Party, as well as a Style Lounge by Humble Designs, along with photo trailers by The Holidays.
Makers Arcade is also partnering with ARTS (A Reason to Survive), a local non-profit organization that empowers families and community members to build healthy, resilient, and equitable communities in the South County region of San Diego. ARTS will be sponsoring the Camp Markers Arcade kids craft area at the fair. For more information about their creative work and support, visit www.areasontosurvive.org/about.
Guests can also enjoy gourmet food and sweet treats on-site via several food trucks, including Marcel Belgian Waffles, Dang Brothers Pizza (baking out of a vintage fire truck), Hawaiian Fresh Seafood, The Go-Go Truck, Salt + Lime, and Dune and Sea Coffee. Topo Chico and Sierra Nevada will be serving up beer and booch, and Sipwell Wine Co will be serving their award-winning wine in a planet-friendly can.
The first 100 attendees in line will receive a complimentary gift bag filled with handmade goodies. There will also be a Camp Makers Arcade for kids with games and interactive art, as well as a Game Area for adults (and kids) on the deck of the pier.
Admission is $6 online before June 20 or $7 at the door. For tickets and more information, visit www.MakersArcade.com, and follow along on Instagram at @makersarcade.
Calendar Information:
Makers Arcade Summer Fair inside the Broadway Pier, 1000 N Harbor Dr, SD, CA 92101
Saturday, June 25 & Sunday, June 26 from 11:00 a.m. to 6:00 p.m.
Admission: $6 online before June 20 or $7 at the door, includes access to the event, live music performances, make-and-take stations, photo booths, and more. Kids under 10 are free.
100+ makers
100 complimentary gift bags (to the first 100 attendees)
Free make & take stations
Free photo booths
Live music
Camp Makers Arcade play and coloring areas for kids
Craft cocktails and beer
Gourmet food trucks
Outdoor family games on the pier
Cotton candy by Swoonful
Band Line-up:
Saturday, June 25, 11:30 a.m. to 12:30 p.m. – Morning Glory Family Band
Saturday, June 25, 1:45 p.m. to 2:45 p.m. – Barnacle Brothers
Saturday, June 25, 4:00 p.m. to 5:30 p.m. – Nathan & Jessie
Sunday, June 26, 11:30 a.m. to 12:30 p.m. – Devvlov
Sunday, June 26, 1:45 p.m. to 2:45 p.m. – Christian Jules Taylor
Sunday, June 26, 4:00 p.m. to 5:30 p.m. – Puerto