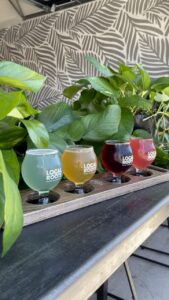 Local Roots Hard Kombucha announces the opening of its second tasting room, in Solana Beach. Additionally, Local Roots is named the exclusive kombucha of the Del Mar Fairgrounds at the Belly Up's new concert venue at the Fairgrounds.
The Solana Beach tasting room is slated to open September 23 on Cedros Avenue in the Design District, next to Carruth Cellars, adjacent to the Belly Up. The taproom will have close to 20 draft options – including favorites, such as Cali Mule, Strawberry Mojito, Purple Haze, Mai Tai, and specialty collaborations brews – along with experimental hard and non-alcoholic kombucha options, always pushing the envelope of better-for-you organic alcohol. They also highlight local beers and wine on tap. Cans and growlers are all available to-go as well.
To-go lunch items will be available seven days a week, prepared by Blade 1936, Local Roots' new food purveyor.
Owned, brewed, and operated by cousins – Ryan White and Joe Carmichael – Local Roots is "thrilled to expand its San Diego footprint and within the north coastal community," said White. Both White and Carmichael live in Encinitas and Carlsbad, respectively. "Friends, family and Local Roots fans have been asking for us to open a tasting room along the coast and we're so happy to team up with the folks from Belly Up to make it happen."
White and Carmichael, who share a passion for health and wellness, brewed the business out of a love for clean eating and cold pressed juicing after family health battles with cancer and gut health. First launched in 2019, the cousins first took time to understand the process of commercial brewing and canning, now Local Roots can now be found in stores throughout California and Arizona. While starting as a health journey, Local Roots Kombucha has evolved into a planet-focused, sustainable establishment, dedicated to giving back to local communities. They donate regularly to both local and environmental non-profits; the Vista brewery is also solar powered and uses transparent and sustainable ingredients.
Solana Beach taproom hours will be seven days a week – Monday through Thursday from 11:00 a.m. to 9:00 p.m., Fridays and Saturdays 11:00 a.m. to 10:00 p.m., and Sundays 10:00 a.m. to 9:00 p.m. The address is: 112 South Cedros Drive.
Kombucha is a fermented beverage made via the relationship between specific strains of bacteria and yeast combined with sugar and tea, then allowed to naturally ferment. Local Roots uses organic ingredients, has living probiotics, contains no artificial sweeteners, and is raw, kosher, Gluten-free and vegan. Hard kombucha is an alcoholic beverage and consumers must be 21+ to buy. Kombucha should also be refrigerated upon delivery.
For more information, visit www.LocalRootsKombucha.com.