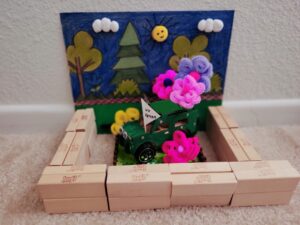 Who/What:     Brain Balance San Diego and the San Diego Automotive Museum partner to host a
Remake Learning Days Contest: Get your Gears Moving!
Children will receive a S.T.E.A.M. (Science, Technology, Engineering, Art, Math) kit to design, build, and compete in a race to see how far their vehicles go. Contestants will be judged on innovation and creativity of their vehicle, speed, and travel distance in their respective age groups. All winners will receive a special prize, have a chance to display their vehicle at the San Diego Automotive Museum, and win a free Brain Balance Comprehensive Assessment.  Due to limited availability, registration is required.
Remake Learning Days is a hands-on, innovative educational experience for children and their families across San Diego County. From April 22 to May 2, a variety of local organizations – such as schools, businesses, nonprofits, libraries, and other community centers – come together to support and showcase the future of learning.
When:                 Sunday, May 1 from 10:30 a.m. to 12:30 p.m.
Where:                 San Diego Automotive Museum, 2080 Pan American Plaza in Balboa Park (92101)
Details:                Participants can pick up their free supply kit at the Brain Balance of San Diego or the San Diego Automotive Museum between April 11-30. On Sunday, May 1, kids can race their vehicles at the                                       museum.
Why:                     Children will be able to enhance creativity, imagination, and planning skills which are essential for fostering brain development and brain connectivity. Participants will also be able to develop                                           important skills for the future, such as communication, teamwork, and attention.
Brain Balance is the leading research-based, drug-free brain-training program designed to help kids, teens, and adults improve focus, anxiety, memory, regulation, and cognitive performance. The program takes an integrative approach to strengthening brain connectivity through sensory and physical engagement, cognition, and nutritional guidance. Over the past decade and across 100 locations, this unique and effective program has helped more than 50,000 individuals create a brighter path for their future.