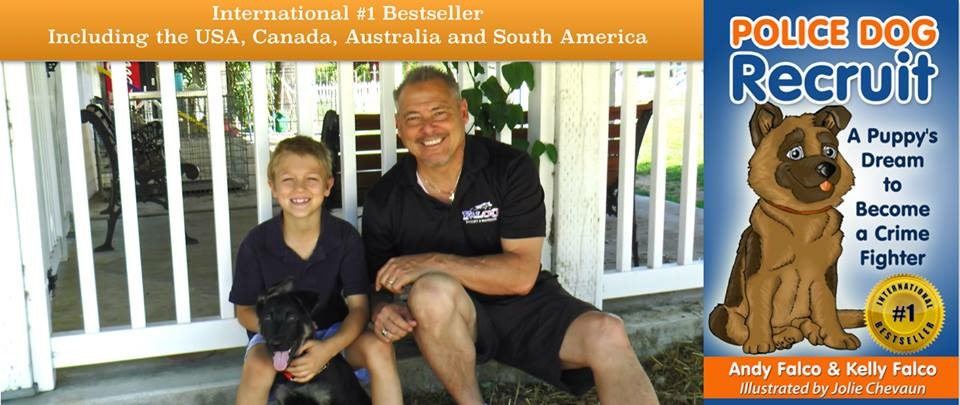 **Three-Time Best Selling Author & Dog Trainer Writes First Book with Son; Already a No. 1 in Three Countries**
Orange County based Andy Falco of Falco K-9 Academy announces the release of his newest book, Police Dog Recruit, a children's book that he wrote with his 8-year old son, Kelly Falco. The book is currently ranked No. 1 on Amazon in the United States, Germany and Australia (Children's eBooks/Education & Reference, Nonfiction/Children's Nonfiction, and Children's eBooks/Animals). The book, Falco's eighth, tells the story of a puppy's dream to become a crime fighter.
Illustrated by Jolie Chevaun, the story is written for both kids and adults who read to them. It's a children's story – readable for new readers – while also giving the adults adequate information to explain in more detail to the children as they ask questions.
The book will host a series of book readings throughout Southern California, including several in San Diego.
Friday, June 5 at 11am at the San Diego Children's Discovery Museum, 320 North Broadway, Escondido (92025); Accompanying the Falcos at this book reading will be a police dog demonstration.
Sunday, June 28 at Muttropolis in Solana Beach, 227 S. Cedros Ave, Solana Beach (92075)
Falco has been featured on Nat Geo, Nat Geo Wild, Animal Planet, Discovery, ABC, NBC, CBS and the Disney Channel. He speaks all over the world on a variety of dog-related topics. He is also hired regularly as an expert in dog behavior and training for court cases throughout North America. This is all because of his style of training and platform of training with love and respect.
Falco K9 Academy is one of the few facilities that train Police K9 Teams (over 1,000), detection dogs (of all disciplines), search and rescue dogs (including Peru and Argentina) and thousands of pet dog owners. Falco K9 Academy has trained and provided dogs for hundreds of law enforcement agencies throughout the world. Falco has also been contracted by some of the largest companies in the world, including Disneyland, Anaheim, Orlando and Hong Kong, the Koch brothers, Jerry Weintraub, Long Beach Medical Center, George Washington Medical Center in Washington D.C. and Steven Spielberg's Starlight Star Bright Foundation, to name a few.
Falco's last two books "Dog Training for Fun and Profit" and "Dog Sniff Evidence" are both No. 1 bestsellers on Amazon. He has written five other books, including "FALCO – Walking with God and a Dog," which discusses his time as a K9 handler and how his dog saved his life. Falco is a former police officer and K9 handler for the Anaheim Police Department in Calif. (24 years).
For Falco K-9 Academy is located at 4691 Valley View Avenue, Yorba Linda, Calif., while its training field is located at 625 Columbia Street, also in Brea, Calif. For more information, please visit http://www.falcok9academy.com/.