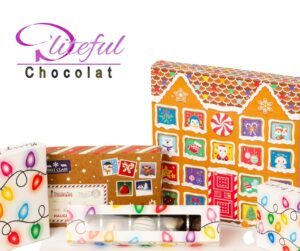 'Tis the season as Chef Dayleen Coleman, and her team of seasoned chocolatiers at D'Liteful Chocolat host a Holiday Open House and Fundraiser to support the Boys and Girls Club of San Marcos on Friday, Dec. 16 from 5:00 to 7:30 p.m.
There will be hot chocolate and apple cider, a chocolate activity, and a special meet and great with Chef Christophe Rull, U.S. Chocolate Master, and star of Netflix's Bake Squad.
Admission for the event is one unwrapped toy ($20 perceived value) or $20 gift card (Target, Walmart, Amazon), per adult/child. For more details on the event, visit www.dlitefulchocolat.com/store/p220/HOLIDAYOPENHOUSE.html.
In addition, guests will receive a coupon for 10% off in-store and online purchases.
D'Liteful Chocolat offers a variety of gourmet, handcrafted chocolates, and desserts, handmade from their Patisserie & Chocolatier at Lake San Marcos, located at 1030 La Bonita Drive, Suite #200. Now through the holidays, the retail shop will be operating under new holiday hours, open Tuesday through Saturday from 10:00 a.m. to 4:00 p.m. (closed on Christmas Day).
D'liteful Chocolat was founded in San Marcos, Calif. by Chef Dayleen Coleman who realized her love and affinity for all things culinary at a young age. Determined to explore that most delectable of creative outlets, Coleman moved to England, where she studied a myriad of culinary techniques at the famed Le Cordon Bleu ​in London. Upon completion of her studies, she immediately sought out and found opportunities to further her knowledge and skills within the demanding culinary industry.
Through that experience she found that her passion truly lay in the eternally complex world that is chocolate making. Upon her return to the United States, Chef Dayleen wanted to share her love of patisserie and chocolate with her community by starting her own small business. Started in 2017, D'Liteful Chocolat has established a reputation for exceptional quality and flavor. Carried by exclusive wineries and high-end boutiques, along with her retail shop, these hand-crafted, delectable chocolates are unique and flavorful. Chef Dayleen brings to Southern California the best of European chocolate tradition, while infusing her own unique take on what makes chocolate special.
For general information or to shop online, visit www.DlitefulChocolat.com or call (760) 653-3029.