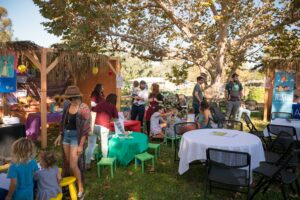 Coastal Roots Farm hosts its 10th Annual Sukkot Harvest Festival on Sunday, Oct. 9 from 10:00 a.m. to 2:00 p.m. The family-friendly festival is the biggest event of the year, inspired by the Jewish tradition of gathering community outdoors to celebrate the end of an abundant summer harvest and welcome in the fall season and all it brings.
The Sukkot holiday is an ancient Jewish harvest festival reflecting themes of hospitality and the welcoming of strangers; like all the farm's events, the festival will welcome people of all backgrounds.
The community is invited to meet under the sukkah (temporary shelter) for a day filled with live music, food, and activities for all ages. Festivities include farm tours, a Kid Zone, hand-crafted goods made by local Jewish artists, live entertainment, as well as food and drink vendor options for purchase.
The Farm is located at 441 Saxony Road in Encinitas. For more information, visit www.CoastalRootsFarm.org.
About Coastal Roots Farm:
Coastal Roots Farm is a nonprofit Jewish community farm and education center in Encinitas, Calif. where we practice organic farming, share our harvest with those who lack access, deliver unique farm-based educational programs, and foster inclusive spaces for people of all backgrounds to come together to connect, learn, and celebrate in ways that catalyze a more vibrant community.   
 Farm programs are designed to meaningfully benefit the land and the community, from improving the fertility of the Farm's soil and supporting biodiverse ecosystems, to making sure low-income families have equal and dignified access to fresh, nutrient-dense foods, and providing quality educational opportunities, we seek to foster a healthier community and a more sustainable environmental future for our region.