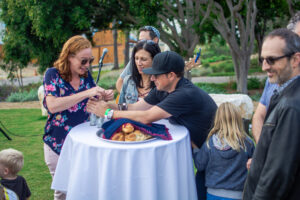 Coastal Roots Farm, a non-profit Jewish community farm and education center, welcomes people of all backgrounds to join them on the Farm for a free and festive Shabbat series. After the first successful Friday night of the Outdoor Shabbat Series, Coastal Roots Farm is excited to host another on Friday, April 29 from 5:00 to 7:00 p.m.
The Farm offers an inclusive and engaging picnic-style Shabbat for friends and family to enjoy. The program is simple: the Farm provides the ambiance, challah, candles, and a Farm Tour, and the rest is up to guests! Children's activities may include arts and crafts, hoola-hoops, books, blocks, and more.
Attendees are recommended to bring their own picnic dinner, a beverage, and blankets/lawn chairs and welcome Shabbat with the beautiful sunset and green scenery.
Pre-registration is required, and masks are highly encouraged. To register, visit https://coastalrootsfarm.org/event/great-outdoor-shabbat/.
The next Great Outdoor Shabbat dates are May 20, June 10, July 15, and August 26.
Coastal Roots Farm is located at 441 Saxony Road in Encinitas. Visit www.CoastalRootsFarm.org for more information.