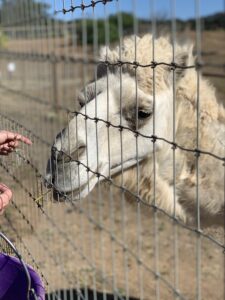 The Children's Nature Retreat, a 20-acre animal sanctuary in Alpine, is hosting its 10th annual fundraising gala, Saturday, Oct. 1 at 5:00 p.m. 'The 4 Elements' – Fire, Water, Air & Earth – is the theme for this year's event.
The evening event will support the Retreat's many educational programs which enrich the lives of children and their families, while also providing a home to more than 200 animals, who would otherwise have nowhere to go. The Retreat is home to 25 different species and 70 distinct breeds of domesticated livestock and exotic animals from around the world. They have been inherited through a variety of reasons, including previous owners who could no longer care for them, moved, or passed away, and in some cases, the animals have been abused and/or abandoned.
Beginning at 5:30 p.m., the Retreat will host a specialty cocktail reception, followed by a three-course gourmet dinner and live entertainment by Ashley E. Norton. Guests will also be able to participate in live and silent auctions.
All money raised throughout the evening will support the Retreat's mission, hands-on and interactive programs, and its animals. The fundraiser allows the Retreat to expand their resources and build new enclosures.
This year, the Retreat is desperately in need of funds to build a proper aviary, estimated at $20,000.
Individual tickets for the event are $175; while VIP tickets are $250, which include a private tour of the entire facility with the founder of The Retreat before the event begins (4:00 to 5:00 p.m.). To purchase tickets, visit www.ChildrensNatureRetreat.org.
For details about the gala, visit https://ChildrensNatureRetreat.org/9th-annual-fundraiser-gala-safari-2021/. For more information on the Retreat, visit www.ChildrensNatureRetreat.org or call (619) 320-4942.