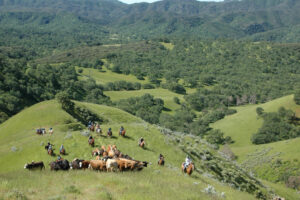 Can well-stewarded rangelands restore the earth? From the Ground Up: Healing our Planet, Healing Ourselves, a new short film produced by California Rangeland Trust, explores this theme, as well as the environmental, economic and social benefits of conserved rangeland. The film features a rancher conservationist who sponsors a post-traumatic stress disorder recovery program for veterans on his land and a veteran who finds healing through the program, as well as a rancher who recently conserved her family ranch.  It also highlights a UC Berkeley scientist who released a recent study that demonstrates the return on investment of protecting working landscapes.
"California's rangelands are so resilient. They can heal our planet and us as people," said Michael Delbar, California Rangeland Trust CEO. Delbar is featured in the film following a devastating wildfire on his property. "Well-managed working lands are critical not only to mitigate the effects of wildfires but also to provide clean air and water, healthy food and ecosystems and beautiful viewsheds we need for quality of life."
The film highlights Dr. Lynn Huntsinger, Professor of Rangeland Ecology and Management at UC Berkeley, who conducted an Ecosystem Services Study to measure the return on investment of conserved rangeland in California. Scientists found that approximately 306,000 acres of rangeland conserved by the Rangeland Trust provide $1 billion in environmental benefits annually, including healthy plant and animal habitats, watersheds, and climate change regulation.
"Conservation easements provide an incredibly valuable service to the state, "said Dr. Huntsinger. "The problem is the land is being developed far faster than it's being conserved." California Rangeland Trust conserves rangelands through conservation easements, legal agreements that ensure working land remains undeveloped.
According to a recent study by the American Farmland Trust, 280,000 acres of California rangeland and pastureland were lost to development between 2001 and 2016. By contrast, private rangeland accounts for 62 percent of California's open, undeveloped land. That land provides habitat for 67 percent of the state's threatened or endangered species. In addition, over 85 percent of California's fresh water runs over rangeland.
California Rangeland Trust is a 501 (c)(3) organization headquartered in Sacramento, California, dedicated to serving the land, people and wildlife by conserving California's working ranches. Now in its 24th year, the organization has permanently protected more than 365,000 acres of open rangeland to provide clean air and water, carbon sequestration, vibrant habitat for wildlife, and healthy foods that benefit all Californians.
***You can view From the Ground Up here.***
For more information, please visit www.rangelandtrust.org.