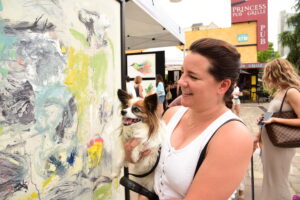 ArtWalk San Diego brings back its popular Summer Series, expanding this year to Liberty Station. This celebrated series of smaller-scale art shows will take place in the heart of Little Italy, in the Piazza della Famiglia and adjacent on Date Street, on Sundays, June 25, and July 23 from 11:00 a.m. to 5:00 p.m., and at ARTS DISTRICT Liberty Station on Fridays, June 2, and July 7 from 3:00 p.m. to 8:00 p.m.
The two Liberty Station events will be held in the North Promenade in conjunction with the popular "First Friday" ARTS DISTRICT, Liberty Station's monthly celebration of all things creative. The monthly program offers an opportunity to meet working artists, discover outdoor public art installations, all while wandering and exploring the historic Liberty Station.
"We are thrilled to expand the success of our Little Italy Summer Series to Liberty Station's First Fridays," said Curt Brooker, Director of ArtWalk San Diego. "These one-day summer pop-up events offer such a special experience for both the artist and art lover – the perfect way to take in a summer Sunday afternoon or Friday evening."
The mini shows will display just 20-30 artists in an intimate setting, representing a variety of art mediums, including painting, sculpture, glass work, fine jewelry, photography and more.
This art series is part of the ArtWalk San Diego brand known for bringing together all facets of the arts throughout San Diego, while promoting the experience of owning original art. ArtWalk San Diego's festivals support their non-profit partner, ArtReach San Diego, a nonprofit organization aimed at increasing equity in visual arts education in K-8 schools throughout San Diego County by delivering free or low cost workshops to schools that have no other resources for art, focusing on Title One Schools. Many of the programs ArtReach offers are provided at no cost to schools.
More information will be released soon. For more details on ArtWalk and its programs, please visit www.artwalksandiego.org.