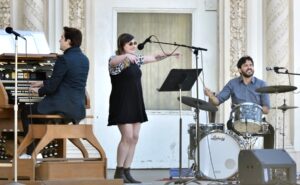 Spreckels Organ Society, a non-profit organization curating concerts and performances in the heart of Balboa Park, is hosting a special Sunday afternoon concert, celebrating The Beatles, called "All You Need is LOVE," on Sunday, Jan. 29 from 2:00 to 3:00 p.m. The event is free and open to the public.
The concert will showcase San Diego's Spreckels Pipe Organ – the largest open air musical instrument in the world – with San Diego Civic Organist Raul Prieto Ramirez performing. He will be joined by San Diego's awarded singer Lauren Leigh-Martin, Richard "Tbone" Larson on drums, and the Choir of St. James-by-the-Sea, directed by Alex Benestelli. Featured songs include favorites such as: "Penny Lane," "Let it Be," "All You Need is Love," "Helter Skelter," "Lady Madonna," and more.
The Spreckels Organ Pavilion performances bring a one-of-a-kind experience for guests; the elevated music venue begets world-class musical artists for San Diegans and visitors to enjoy, for free. All concerts on the Spreckels Organ are complimentary to the public in accordance with the 1915 Deed of Gift whereby the brothers John D. and Adolph Spreckels gave the organ and pavilion to the City of San Diego. Donations are always accepted.
For more information, visit www.SpreckelsOrgan.org.