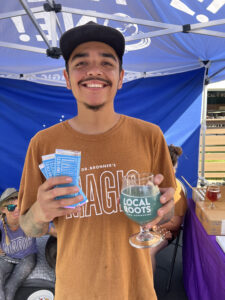 Local Roots Hard Kombucha will continue to regularly host the all-vegan food festival – Vegan Food Popup – every other Friday evening from 5:00 to 9:00 p.m. The pop-up event began, adding Local Roots' Boochyard in Vista, late June and has become very popular with North County regulars.
More than 40 food vendors are on hand to offer a large selection of things to eat, all made exclusively from plants. Regular participants include local favorites, such as Nomad Eats, Sabor Piri Piri, SeaCo Catch, Uprising Pizza and Stone Monkey. Well-known Los Angeles-based vegan vendors also include Cena Vegan, Veggie Fam, and The Donuttery.
The Vista Vegan Food Popup will alternate weekly with the Encinitas location at the San Dieguito Heritage Museum, located at 450 Quail Gardens Drive, which is held every other Saturday, from 12:00 to 4:00 p.m. Both the Vista and Encinitas pop-up locations are family-friendly and dog-friendly and provide free parking.
In between bites, attendees can shop a select group of vegan-friendly products, including apparel, jewelry, beauty, wellness, and home goods, as well as services such as body work, reiki, and henna. The food festivals also bring live music and entertainment.
The Boochyard is located at 1430 Vantage Court, Suite 101 in Vista (92081). For more information, visit www.LocalRootsKombucha.com. And, for additional details on the pop-up, visit http://veganfoodpopup.com.