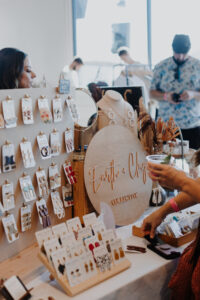 San Diego Made Spring Market brings all the spring vibes to life in Little Italy at the Julep Venue, Sunday, April 23 from 11:00 a.m. to 6:00 p.m. The event will host 85-plus local makers, plus a seasonal, spring shopping experience with craft cocktails, gourmet food trucks, live music, photo displays, styled lounges and more! The market is the perfect place to shop for Mother's Day and graduation gifts.
In addition to the local artisans, there will be Tarot card readings, a Hanging Bell Cups & Live Air workshop, as well as an art installation and photo ops by Kristin Dinnis and the San Diego Made team. There will also be a free photo booth by EZ Photography. The kids will have their own special play area provided by Conde Collective.
Guests can also enjoy gourmet food and drinks on-site, including The Funky Frenchie, ZsBuddies Sushi & Ramen, San-tea and Dessert Studio, The Space Coffee SD, and Snake Oil Cocktails.
Festivities will include live music by The Fernandas, DALL, and Aly Rowell. There will also be a limited number of handmade door gifts (while supplies last).
"The market is a shopping experience perfect for a girls day out, day date with your significant other or family outing – and a great way to kick off the spring season and round out the Earth Day weekend," said Kristin Dinnis, one of the San Diego Made co-founders, along with Sarah Anderson, Brittany Wiczek, and Brook Dailey.
Admission is $6 online before the event, or $7 at the door. A limited number of VIP packages are also available. For tickets and more information, visit sandiegomade.org/spring-market-2023/. Instagram: @sdmademarkets.