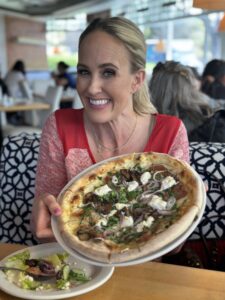 Sammy's hosted a Pizza Making Challenge on National Pizza Day (February 9, 2023), with a handful of local celebrities and media personalities. KUSI's Allie Wagner's "Tasty Truffle" pizza won and has now been added to the menu at all seven San Diego locations. A $5,000 donation was also made to her charity of choice, which was Challenged Athletes Foundation (CAF), a 501 (c)3 organization that provides high-cost adaptive sports equipment for athletes with physical challenges.
Wagner's "Tasty Truffle" pizza ($20) consists of prosciutto, mozzarella cheese, mushrooms, onions, arugula, goat cheese, and truffle oil.
The pizza contest was judged by Pam Kragen, The San Diego Union-Tribune's "Night & Day" editor and resident food writer, Mia Stefanko, co-publisher of Ranch & Coast Magazine, and Sami Ladeki, founder and creator of Sammy's.
Additional pizza making participants included Heather Lake of FOX5 San Diego, who's pizza won last year, Eric Kahnert of CBS8 San Diego, Rudy Acosta of Univision, Rick Morton from Z90, Sara Perry from the "All in San Diego" Podcast, and Tati of Jesse & Tati from STAR 94.1 FM.
On February 16, Executive Chef Alfie presented CAF with the $5,000 donation, alongside Wagner. In 1994, CAF turned an effort to help one man into a global change in the way athletes with physical challenges are perceived and perceive themselves. They provide opportunities and support to people with physical challenges, so they can pursue active lifestyles through physical fitness and competitive athletics. More than 40,000 individual grants have been awarded with physical challenges across 104 sports, all 50 states, and 70 countries. CAF also hosts camps and clinics and offers mentorships to all individuals with physical challenges. For more information on CAF, visit www.challengedathletes.org.
San Diego locations include: La Jolla, Del Mar, San Marcos, Scripps Ranch, La Mesa, Mission Valley, and at Sammy's inside Seven Mile Casino in Chula Vista. To visit or for more information on Sammy's, visit www.sammyspizza.com.