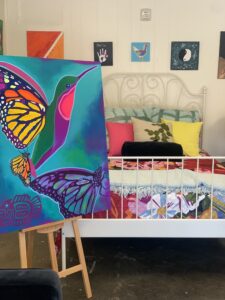 San Diego's Monarch School Project, a school that serves K-12 students experiencing homelessness, hosts its annual Raise Up for Monarch Fundraiser on Oct. 6 from 5:30p.m. to 8:00 p.m. Join the community at an evening filled with interactive tours, entertainment, hors d'oeuvres and hosted beverages to raise funds to support Monarch School Project's efforts to educate and enrich the lives of unhoused youth and their families.
The Monarch School Project nurtures resilience in unhoused youth and their families, empowering students to influence their own growth in the areas of academic success and social emotional learning. Monarch reinforces the existing strength of families so that students can thrive in school and in life. Nearly 300 students attend the Monarch School each day and are provided a holistic education designed to meet their academic, social, emotional, and life skill needs. Monarch is a trauma-informed and strength-based community where students can persevere through the trauma of homelessness that has affected them and their success in education.
This year's Raise Up Host Committee Chair is Caroline Winn, President of SDG&E. The event will be held on the Monarch campus at 1625 Newton Avenue (92113) where the community can come together to give back and support San Diego's unhoused youth and Monarch's mission. Standard tickets start at $150 in addition to sponsorship opportunities. For more information about the fundraiser, or to donate, visit https://monarchschools.org/raise-up-2022/.