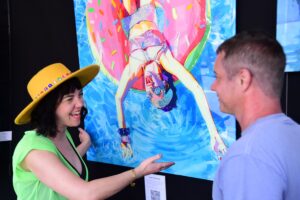 Mission Fed ArtWalk – the largest and longest running fine art festival in Southern California – is back for its 39th year, bringing a weekend-long of premiere arts and culture to San Diego's Little Italy on Saturday, April 29 and Sunday, April 30, 2023.
The free festival attracts locals and visitors to San Diego's Little Italy, giving all an opportunity to meet more than 250 local, national, and international artists, and purchase art directly from the creators. The event boasts artists from every medium of art, including painting, sculpture, glass work, photography, fine jewelry and more. After browsing and purchasing one-of-a kind art, attendees can enjoy four stages of live music, interactive art experiences, street food, family-friendly art projects at KidsWalk and more.
"Mission Fed ArtWalk has become a time-honored tradition that encourages everyone to explore different facets of artistic expression in a friendly environment," said Curt Brooker, Director of ArtWalk San Diego. "Whether you are an art buff or just beginning to build a collection, we are proud to help connect San Diegans and visitors to a sea of talented fine artists from all over the U.S., Mexico and beyond, for 39 years!"
The yearly art festival is brought to San Diego by the same team that brings ArtWalk @ Liberty Station to the ARTS DISTRICT in Liberty Station (this year, Aug. 5-6, 2023) and ArtWalk Carlsbad to North County (this year, Sept. 9-10, 2023). Each of ArtWalk San Diego's festivals support their non-profit partner, ArtReach San Diego, a nonprofit organization aimed at increasing equity in visual arts education in K-8 schools throughout San Diego County by delivering free or low cost workshops to schools that have no other resources for art, focusing on Title One Schools. Many of the programs ArtReach offers are provided at no cost to schools.
This year's Mission Fed ArtWalk will feature a Charity Art Auction benefiting ArtReach. Electra Bicycle Company, a San Diego-based company and the leading lifestyle bicycle brand in the U.S., has generously donated a collection of cruiser bikes and bike accessories to be designed by local artists. More information about the online auction will be available on www.artreachsandiego.org.
"At Mission Fed, we strive to enhance and improve the lives of all San Diegans by giving back to the community," said Debra Schwartz, president, and CEO of Mission Fed Credit Union. "As the title sponsor for the last 15 years, we look forward to this year's spring festival. Arts and culture are critical to our positive health and well-being. The rows of artwork combined with live music, cultural expression, and art activities, fosters an environment that celebrates visual and performing arts in San Diego. We encourage all San Diegans to save-the-date!"
Mission Fed ArtWalk attracts 100,000 art collectors and visitors from all over the country to purchase art from established and emerging artists during the two-day festival, located throughout San Diego's Little Italy neighborhood.
The event will run from 11:00 a.m. until 6:00 p.m. on Saturday, April 29 and 10:00 a.m. until 5:00 p.m. on Sunday, April 30. Attendance is free. More information will be released in upcoming months.
For more information on ArtWalk and its programs, please visit www.artwalksandiego.org.