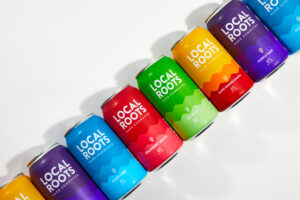 Local Roots Hard Kombucha teams up with Leucadia's Kai Ola Sushi for its new tasting room in Solana Beach. Additionally, Local Roots' Vista Boochyard boasts a new menu with new woodfired oven.
With a newly expanded bar and more seating, Kai Ola Sushi will now offer its premium Hawaiian-style sushi (and casual vibes) at Local Roots' Solana Beach location (112 South Cedros Drive) on Cedros Avenue in the Design District, which opened just this fall. They are offering a variety of sushi rolls Tuesdays through Thursdays 2:00 to 9:00 p.m., Fridays 12:00-10:00 p.m., Saturdays from 12:00 to 10:00 p.m. and Sundays 12:00 to 9:00 p.m. to complement the more than 20 rotating flavors on tap.
At the Boochyard (1430 Vantage Court, Suite 101 in Vista), they are now offering Woodfired East Coast Style Pizzas and Slices in-house. The pizzas – Margherita, Pepperoni, Spicy Pepperoni, and Spinach Ricotta (also offered as Vegan, gluten free and vegetarian) – are available as whole pizzas or slices. Additionally, they have a Green Salad and Caprese, and appetizers like Breaded Cauliflower and Mozzarella Sticks, which complement the 40 rotating tap handles, featuring Local Roots' core line and cycling though new and experimental flavors. Local craft beer, as well as a selection of wine by the glass are also available. The Kitchen & Taproom at the Boochyard is open Tuesdays through Thursdays 2:00 to 9:00 p.m., Fridays and Saturdays 12:00 to 10:00 p.m. and Sundays 12:00 to 9:00 p.m.
Also new to the menu is Local Roots' newest Can-for-a-Cause – Bluebird Daze – which started exclusively at Mammoth Mountain, benefitting the Mammoth Mountain Community Foundation earlier this season. The Dark Cherry Lime flavor is also available at both tasting rooms. And Local Roots is also on Door Dash too.
Owned, brewed, and operated by cousins – Ryan White and Joe Carmichael – Local Roots is "excited to bring this new flavor to the slopes for both our SoCal fans, who regularly visit the mountain, as well as new mountain enthusiasts," said White.
White and Carmichael, who share a passion for health and wellness, brewed the business out of a love for clean eating and cold pressed juicing after family health battles with cancer and gut health. First launched in 2019, the cousins first took time to understand the process of commercial brewing and canning, now Local Roots can be found in stores throughout California and Arizona.
While starting as a health journey, Local Roots Kombucha has evolved into a planet-focused, sustainable establishment, dedicated to giving back to local communities. They donate regularly to both local and environmental non-profits; the Vista brewery is also solar powered and uses transparent and sustainable ingredients.
Kombucha is a fermented beverage made via the relationship between specific strains of bacteria and yeast combined with sugar and tea, then allowed to naturally ferment. Local Roots uses organic ingredients, has living probiotics, contains no artificial sweeteners, and is raw, kosher, Gluten-free and vegan. Hard kombucha is an alcoholic beverage and consumers must be 21+ to buy. Kombucha should also be refrigerated upon delivery.
For more information, visit www.LocalRootsKombucha.com.