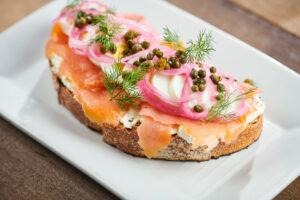 Sami Ladeki, the restaurateur behind Sammy's Woodfired Pizza and Toast Gastrobrunch is opening a blended concept – Toasted Gastrobrunch + Dinner in Oceanside at 339 North Cleveland Street (92054).
Toasted will have all the brunch favorites from Toast Gastrobrunch (formerly in Carlsbad) served daily from 8:00 a.m. to 3:00 p.m. At 3:00 p.m. Happy Hour begins with shareables and other delicious items at 50% off until 6:00 p.m. Sammy's Dinner menu will be served from 6:00 p.m. to 9:00 p.m. which will have new specialties – an elevated dinner experience.
The new Oceanside location is steps from the pedestrian walkway to the beach and will take the place of the former Carte Blanche Bistro & Bar.
"When we were presented this opportunity, we couldn't pass it up," said Sami Ladeki. "The beauty of the design, coupled with the location and the amazing redevelopment of the downtown in Oceanside, made me fall in love with the site. We can't wait to expand our reach further north and try out this new concept to appeal to all day parts."
Breakfast dish highlights include the Brisket Hash, Stuffed French Toast and Chilaquiles. The house specialty is the Coconut Pistachio Kanafee, served with orange blossom syrup.
Sammy's dinner favorites will include the fan favorites of the Chopped Chicken Salad, Mini Duck Tacos and the pizzas that made them famous. There will be new additions to enhance the menu, such as an octopus shareable, a roasted lamb shank entrée, and lobster orzotto. And, of course, the Messy Sundae will be on the menu for dessert!
The bar will showcase crafted brunch cocktails by day with bottomless mimosas, and a dinner menu to include many specialty cocktails, beers, and a curated California wine list.
Oceanside hours will be 8:00 a.m. to 9:00 p.m. daily, with brunch from 8:00 a.m. to 3:00 p.m.; happy hour from 3:00 to 6:00 p.m.; and dinner from 6:00 to 9:00 p.m.
Being a veteran himself, Ladeki will extend a 20% discount to all military personnel as he does at all of his locations.
To visit or for more information, visit www.ToastedOceanside.com.