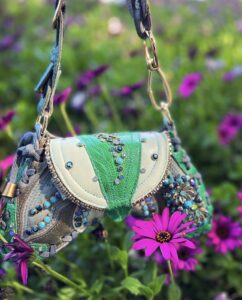 On Sunday, April 30, the San Diego-based nonprofit FACE Foundation will hold its 12th annual Bags & Baubles fundraiser. Presented by SKY Facial Plastic Surgery, this unique silent auction is held at an expansive private Rancho Santa Fe estate. All proceeds from the items sold at this event will directly benefit pets in need of life-saving veterinary care.
Bags & Baubles features designer bags from various eras and price points, but also provides guests the opportunity to soak up the sun in a beautiful environment while enjoying complimentary drinks, including fantastic wines, gourmet food with both vegan and vegetarian options, and live music.
Each item up for bid in the silent auction has been donated to FACE Foundation and will benefit a pet facing economic euthanasia – a reality that occurs when families are unable to afford life-saving treatment for their critically injured or ill pet. FACE is proud to be there to provide financial assistance and resources to families in need of a helping hand during these veterinary emergencies.
A $125 ticket provides access to this exciting event, as well as complimentary beverages, incredible food, and gourmet treats. Up for bid are hundreds of new and gently loved designer handbags, fine jewelry, sunglasses, accessories, men's items, and more. Bags & Baubles is sure to be a fantastic day for both fashionistas and animal lovers to enjoy.
To register or learn more, visit www.face4pets.org.