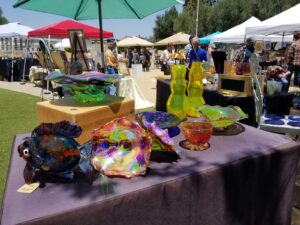 MAGEC (Museums & Arts Growing Escondido Culture) presents its biannual Art in the Garden, a newer feature of Escondido Street Festival, Sunday, May 21 from 10:00 a.m. to 6:00 p.m.
Art in the Garden is a juried art show with many talented local Southern California artists, including:
Kayla Brown
Joanne Clark
Martita M Foss
Ginger
Robert Grigsby
Maria Islas
Judy Maron
Janice Niles
Susanna Petrosyan
Ester Pock
Callia Pulvers
Michael Schofield
James Stone of Stone & Glass
Spearheaded by Stone & Glass, a glassblowing art studio in Escondido, Art in the Garden can be found at the corner of Grand Avenue and Juniper Street, on the east end of the festival, in Heritage Garden (121 N. Juniper Avenue).
The Grand Avenue Festival takes place in historic downtown Escondido on Grand Avenue from Center City Parkway to Ivy. Guests can shop from hundreds of vendors for unique hand-crafted gifts, imports and local art. Enjoy international cuisine and local entertainment, as well as fun rides, games, entertainment, food, art, and shopping for everyone.
MAGEC is an informal group with the purpose of collaborating to grow and develop the goals of its participants by promoting Escondido's vibrant arts, heritage and educational culture. This group of businesses and non-profits are open to the public and comprised of art galleries, studios, museums, theaters, educational venues and arts oriented businesses, who are dedicated to actively promoting cultural and heritage tourism, network, create co-op programs, and collaborate to build their businesses and in turn enhance the quality of life for those visiting, working, and living in Escondido.
For more information about MAGEC, head over to VisitEscondido.com/MAGEC or email [email protected].