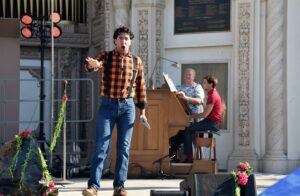 Opera4Kids and Spreckels Organ Society Present "The Enchanted Tail," Sunday, May 15 at 4:30 p.m.
Who/What:       Spreckels Organ Society, a non-profit organization curating concerts and performances in the heart of Balboa Park, and Opera4Kids, will host a free, family friendly performance of
"The Enchanted Tail" for young audiences and their families.
Spreckels Organ Society's Artistic Director and San Diego's Civic Organist Raul Prieto Ramirez, along with Opera4Kids' Victoria Robertson Soprano and Bernardo Bermudez Baritenor have teamed up for this one-of-a-kind show.
When:                  Sunday, May 15 at 4:30 p.m.
Where:                 Spreckels Organ Pavilion
2125 Pan American Road in Balboa Park
Why:                    "The Enchanted Tail" is a show written especially for young children and those young at heart.  Performed by top opera singers from Southern California, the show will be sung by Victoria Robertson                                (Soprano) and Bernardo Bermudez (BariTenor), accompanied by San Diego Civic Organist Raúl Prieto Ramírez.
The pandemic has been difficult for young children and their families – void of the magic of live music and performances; join us in this free outdoor performance.
Websites/Resources:    Opera4Kids.com // YouTube.com/Opera4Kids // spreckelsorgan.org // balboaparkconcerts.org
Background: Through the generosity of the City of San Diego, the Spreckels Organ Society concerts at the Spreckels Organ Pavilion are presented at no charge in accordance with the 1915 Deed of Gift whereby the brothers John and Adolph Spreckels gave the organ and pavilion to the City of San Diego. Donations are always accepted. For more information, visit www.balboaparkconcerts.org.
Set in the beautiful backdrop of Balboa Park's open-air venue, the Spreckels Organ is the largest open air musical instrument in the world, and its performances bring a one-of-a-kind experience for guests. The elevated music venue brings world-class musical artists for San Diegans and visitors to enjoy, for free. For more information about the Spreckels Organ Society, visit www.spreckelsorgan.org.